How to convert any TV to smart TV?


Smart TVs are expensive and we can not afford to buy them all. But this does not mean that you can not make your existing TV 'smart'. Here's how you can do it.
GoogleGoogle's Chromecast is easy to set up and use. (Google):
Most of us are addicted to a show or any other on Netflix, Amazon Prime Video or Hotstar. These services are available on both mobile and desktop browsers, so you can stream content from anywhere. But many of us see these shows on their mobile phones or laptops. Of course, you can get it updated with the story by watching it on a small screen, but a pure cinematic experience can only come through a big screen.
The problem is that not all of us can buy smart TVs which run these applications or know how to upgrade LED or LCD TVs in the house. I have a basic 32-inch LG LCD TV, but my living room has been coupled with good Sony speakers for surround sound. I neither want to upgrade my TV nor enjoy watching shows like Game of Thrones or Penny Dreadful on the big screen. Perhaps your use case may be different, but here's how you can make your dumbbell TV smart, watch all these shows on the big screen, without hitting your budget.
Minimum requirement: Broadband / Wi-Fi connection, HDMI port in your TV, any monitor with LCD / LED TV or HDMI port.
Google Chromecast 3:
Price: Rs 3,499
Google Chromecast is the easiest way to stream content from your mobile phone to your TV. Dongle connects to your TV via HDMI port and lets you mirror specific apps along with your phone and laptop. There are several streaming apps that support Google Chromecast. Some of the popular Chromecast compatible apps are Netflix, Hooq, Google Play Music, YouTube and Saavn. You can find a complete list of compatible apps here. Desktop users can stream any website to the big screen.
In addition to streaming content from your mobile phone, you can also use chromecast to convert your TV to a picture frame. You can further customize the screen with Facebook, Google Photos, and many more photos.
Amazon Fire TV Stick:
Price: Rs 3,999
Google's Chromecast works fine, but it depends on a secondary device for streaming content. Amazon's Fire TV Stick resolves this problem.
The Amazon Fire TV Stick is again an HDMI-based device, but comes with 8 GB of on-board storage. It runs the Amazon-owned Fire OS and is powered by 1.3GHz MediaTech quad-core processor in conjunction with 1 GB RAM.
The Amazon Fire TV Stick also supports the Indian accent for voice commands. (Amazon)
Although the Amazon Fire TV stick resembles the old Google Chromecast dongle, it is a competent media player. Amazon App offers a wide range of catalogs that include games like Hotstar, YouTube, Netflix and Flappy Bird. It also supports YouTube. This essentially means that you can download the app on the dongle, and you can stream these services without the need to touch your mobile phone.
The device comes with its own remote which also supports voice commands. Remote understands Indian accent well and lets you search Hindi films effortlessly.
ReTV X1: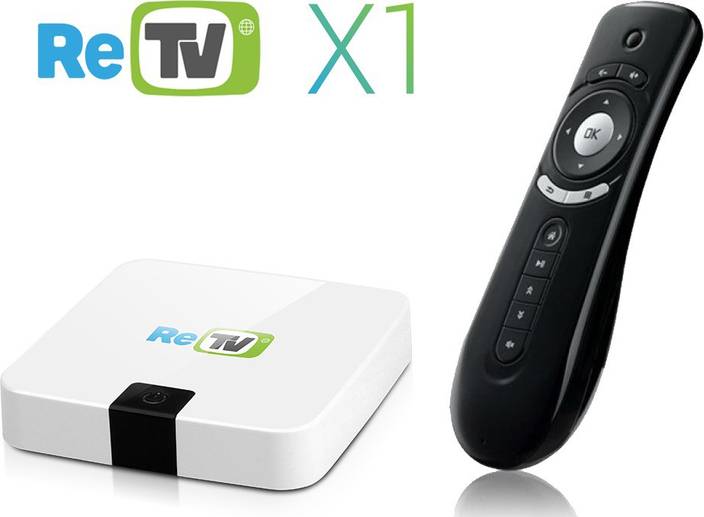 Price: Rs 4,999
The ReTV media player focuses on finding the content you want to stream on the big screen. The company has entered into an agreement with many over the top (OTT) players to give 1,000 free movies. Like Amazon Fire TV Stick, you can watch videos through YouTube, Dailymotion and Vimeo. It also supports applications like Netflix, Hotstar, Amazon Prime and Eros.Now Remember, we never encourage you to do pirate content, but you should know that the media player also lets you download and stream content from BitTorrent. The media player is also connected to the motion sensor remote.
Retv focuses on content curation. (ReTv)
Airtel Internet TV:
Price: Starting from Rs 4,999
The problem with these external media devices is that you need to constantly switch between the HDMI input. Airtel launched an advanced set-top-box in the beginning of this year, which comes with support for Netflix, Hotstar and other streaming services. This essentially set-top-box means that not only lets you watch your regular TV channel, it also gives you access to the OTT app like YouTube and Netflix.
Preview of the interface on Airtel Internet TV. (Airtel)
The set-top-box Android runs on the operating system and comes with 8 GB built-in storage and supports up to 128 GB via microSD card, additional storage. It also has basic support for Google Chromecast, which basically means that you can stream content on TV through all Chromecast-compatible apps.
Subscribing to Airtel Internet TV, you get 25GB bonus data from Airtel, if you have a broadband plan which costs more than Rs 999. Under the broadband plan of Rs 999, Airtel gives you 10GB free data.
If You Enjoyed This, Take 5 Seconds To Share It